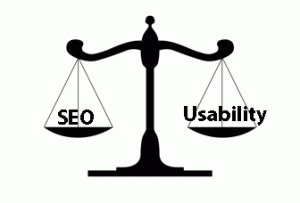 We already discussed the potential conflicts that can arise between search engine optimisation (SEO) and website usability. What we didn't point out is that more often than not, problems come about when SEO is prioritised over usability.
That however, doesn't mean you should shelve your SEO efforts altogether.
SEO's most fundamental role stems from the fact that web users rely very heavily on search queries. In fact, for a huge number of Internet users, search is the main way to navigate the Web.
The key to avoiding conflicts between SEO and usability is to streamline your SEO goals and recognise which of these are short-term, and which are for long-term applications.
Long-term SEO
At its very core, a search engine's purpose is to provide answers to people's questions. A query provides the means of asking the question, while the search results are paths to the answers.
What this means is that search engine results page (SERP) rankings are ultimately determined by the ability of how each site (relevant to specific keywords or phrases) provides support in performing this task. Search engines today rank a site's relevance by taking note of certain factors, such as the number of other sites that link to it.
However, if you've kept track of Google's Panda and Penguin updates, you'll know that this won't last forever. Search engines are becoming smarter, ranking search results by how site's meet usability criteria and how users behave online.
Short-term SEO
Still, that doesn't mean there isn't any value to finding loopholes in current search engine algorithms and using them to your advantage. Besides, the basic tenets of these SEO techniques, which are considered as short-term SEO methods, are practices you should be doing anyway, SEO or no SEO. These include:
Stable URLs to pages and content
Accurately using the same vocabulary and language of users in content text, titles, and headlines
Providing fresh, keyword-optimised content to draw in user chatter and backlinks
Enform believes following these guidelines allows you to enhance both the usability and SERP rankings of your site, putting you in a better position to gain more clicks that will ultimately lead to conversions. Call us anything if you need a more detail and specific strategies for your own brand.